Sada-e-Watan Sydney ™
sadaewatan@gmail.com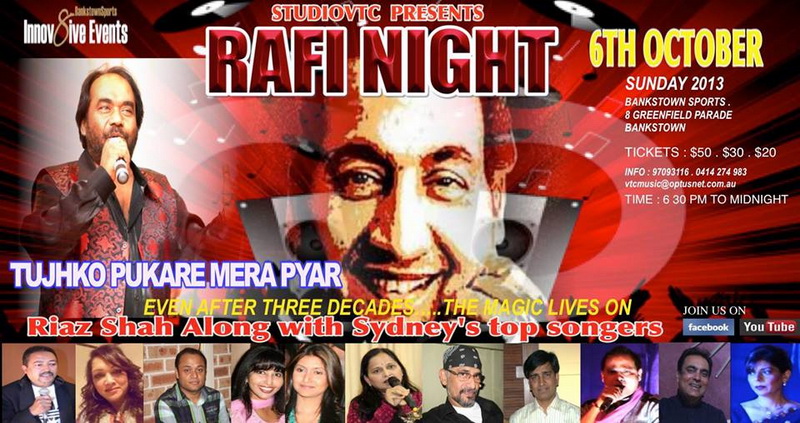 MOHAMMAD RAFI MUSICAL NIGHT A TRIBUTE TO A LEGEND...
After passing three decades, the magic of the gentleman and his noble voice continues, yes, I am talking about the legend, Immortal, the king of the singing world and the Padma Shri award's winner Mohammad Rafi Sahab.
Mohammed Rafi (24 December 1924 - 31 July 1980) was the greatest playback singer of Bollywood. In his life time he was awarded the national film award, best national singer award and six film fare awards. In 1967 he was honoured with Padma Shri award by the government of India. His singing career spanned about three decades. Mohammad Rafi is noted for his ability to sing songs in different moods and Varieties. They ranged from classical numbers to patriotic songs, and sad lamentations to highly romantic numbers, Qawalis to Ghazals and Bhajjans. He is best known for as a playback singer. His ability to mould his voice to the persona of the actor lip synching of the song. The multiple award winners Mohammad Rafi died at a comparatively young age of 56, but in a career spanning four decades he sang around 34,000 songs. He sang in many languages, including Hindi, Urdu, Punjabi, Bengali, Bhojpuri, Marathi, Sindhi, Kannada, Gujarati, Maghi, Mathili and Telugu.
The silky voice of Mohammad Rafi still continues to resonate in the hearts and minds of his million fans. He has infinite lovers in India and rest of the world. Thousands of his die-hard fans are living in Sydney(Australia) that is why every year Rafians(Rafi fans) get together to give a befitting tribute to their all times favourite singer. Every year in Sydney this colourful mega event night organised by Riaz Shah.
About the Event:
This year's long weekend on 6th October 2013, VTC Australia presents Evergreen "Rafi Night" with Super-hit Hindi Songs. This concert is a real tribute to Mohammad Rafi Sahab, the greatest legends of an Indian Film Industry has ever produced. A thrilling musical concert by an accomplished singers, our own Riaz Shah (One of the leading star) along with all time top performers and artists of Sydney including Dr. Archana Sachdev, Arun Nanda, Wasim Shah, Sheryl Narain, Naz Khan, Seema Bhardwaj, Yahya khan, Tariq Mahmood, Sikandar, Avikal, Yaseen Ali, Shelly Misra, Priya, Neena, Shobha and many more talented singers would perform in this show to entertain the Rafi lovers with his all time classical hits.
The melodious musical RAFI Night is directed by main key board artist, musician and sound director Mr. Vishwa Naidu with his team mates eg. Sukhi on Dholak, Stanley Bosco on Bongos, Harry Saxena on Congos, Salim Judaai on Octapad, Aziz on Drums and Dilip Singh as a Video Grapher.
This largest musical concert is going to be live on 8 Greenfield Parade Bankstown Sports Club, Sydney. The beauty of the Bankstown Sports Club has its central location; free undercover parking over 1200 cars and a huge club hall with ultimate fun and entertainment .So get ready for Mastaani Sham with amazing songs of Mohammad Rafi. Rafi lovers are expected to attend in full strength and lap up the gems on offer 'LIVE' at the Bankstown Sports Club Sydney.

For tickets, please contact:
Vishwa: 0414 274 983
Riaz Shah: 0449 570 197
OR send us an email at: vtcmusic@optusnet.com.au