Sada-e-Watan Sydney ™
sadaewatan@gmail.com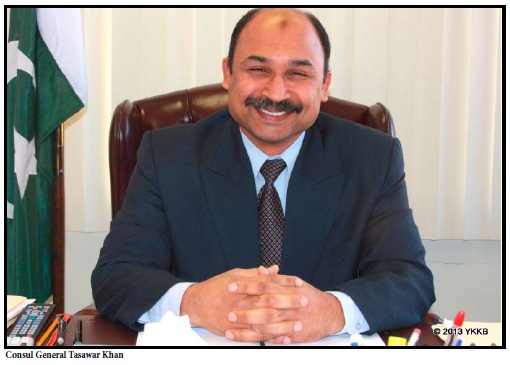 Exclusive Interview of the New Consul General of Pakistan in Los Angeles Mr. Tasawar Khan
By Saman Mahmood
The newly appointed Consul General of Pakistan in Los Angeles, Mr Tasawar Khan describes himself as a 'simple man, who enjoys the simple things in life.' As he shares his background, life and assignments in Foreign Service in the last 26 years, it is clear that he is a veteran diplomat who is very well poised to deal with the challenges of this position.
Mr Khan graduated from the Government College Lahore, and received his Bachelor's Degree in General and Defense Studies from the University of Peshawar. He later joined and served in the Pakistan Army, Corps of Artillery for 7-1/2 years. "Like they say: 'once a soldier, always a soldier'. Though I spent 7-1/2 years in the Army and 26 years in civil service – people still refer to me as the "army man who's taking office," he muses. "Although partly it is true. Army training instills a discipline in an individual which stays forever."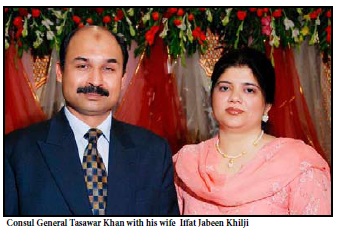 In 1989, he joined the Civil Service as Assistant Director Protocol with the Ministry of Foreign Affair and his first assignment for the next three years involved extensive travelling to over 30 countries with top ranking government officials and delegates. "This valuable experience and exposure right on the onset of my career, greatly helped to shape my understanding of diplomatic relations, streamlining and organizing official visits, and interaction with people of varied cultures, beliefs and backgrounds," he states.
After serving for three years again as Second Secretary in Port Louis, Mauritius and a year as Assistant Director Africa in Islamabad, Mr Tasawar Khan proceeded to England to pursue his Master's Degree in International Diplomatic Studies from the University of London. His later assignments include key diplomatic posts in Saudi Arabia, Zimbabwe, Islamabad, London and the last four years in Australia.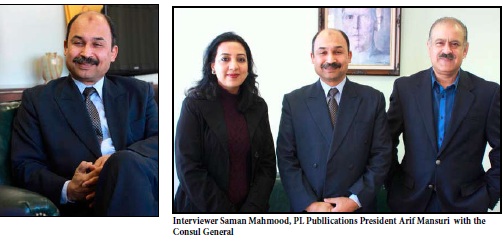 Mr Tasawar Khan has represented Pakistan at innumerable international forums, conferences and summits. His research papers on Non–Proliferation Treaty from a South Asian perspective and its future, are significant contributions to the subject.
But with such an eventful career which involves a very busy social life, how does he achieve his mantra of a simple life? "There is a saying that 'rich is the man who has a contented heart'. My recipe for peace is contentment. The time that I have left after my diplomatic duties and engagements, is spent with my family." Mr Tasawar Khan and his wife Iffat Jabeen Khilji are the parents of three daughters and a son who is in grade eight now. His daughters are all married and well settled, while his son is enjoying relocating in Los Angeles.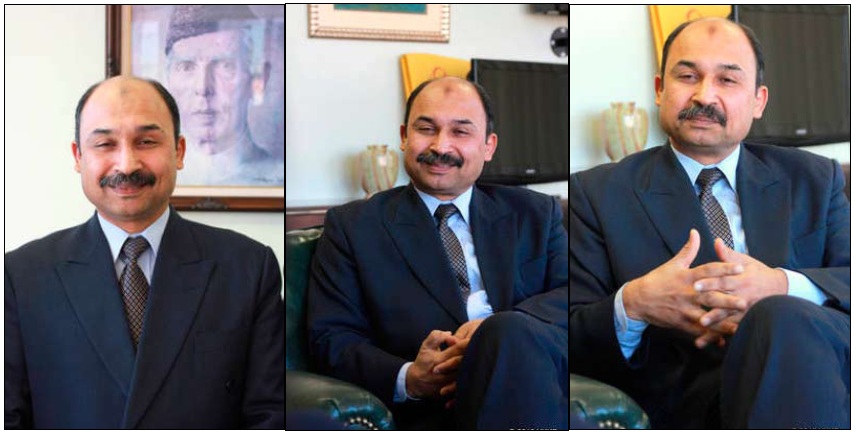 Mr Khan's interest in reading, particularly Urdu literature, has resulted in a personal collection, that he reverts to whenever time is available. It was a habit inculcated in early childhood when his parents encouraged him and his nine siblings to read – the house would always be filled with books, monthly digests, newspapers, novels, travelogues and poetry. He is also a deeply spiritual man, and takes immense inspiration from Sufism.
On the subject of the nature of his responsibilities as Consul General, he says, "Contrary to popular perception that an active social life is all that it takes, the Foreign Service is a very challenging position. It entails dealing with officials and locals, responding to and rapidly learning from alien cultures and the different segments of the Pakistani community. Most weekends are taken, and very little time is left for personal aspirations or relaxation. Consulates are clearly opened in cities where there is a large concentration of Pakistanis. While I would be interacting actively with the 10 States that are under the LA Consulate, the 200, 000 Pakistani population in Los Angeles alone would have their own very different set of activities and demands. Our objective is to promote the culture, language, art and literature of Pakistan, and build the image of our country. The management of US-Pakistan relations is the responsibility of the Embassy of Pakistan in Washington DC."
"Having said that, the Consulate is faced with many resource constraints. The two most common complaints are regarding speedy renewal of passports and issuance of identity cards. We are working on both these issues. Please be assured that I will not leave any stone unturned to improve the facilities provided by our Consulate. I also greatly value members of the community who give their time and energy to give back to their community here or in Pakistan. It is one way of paying gratitude to your Creator. I deeply appreciate selfless community work, and would go an extra mile to support all such efforts."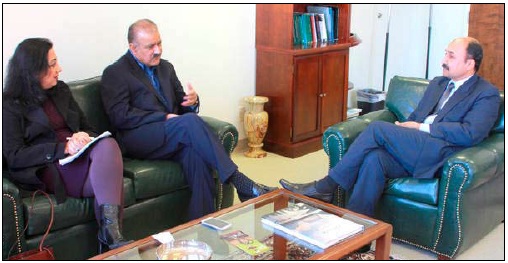 Mr Khan's long association with expatriate Pakistani communities prompts him to observe, "They may have spent decades in a foreign or adopted country, but Pakistan remains in their heart. I sometimes feel that Pakistanis abroad have more love, affection, and concern for Pakistan. And although they may have many grievances, the Pakistan Government recognizes that Pakistani communities abroad are a huge asset for the country."
So can the Pakistan Government provide any technology savvy solution to enable the Pakistanis with dual nationalities to vote and participate in the forthcoming elections? In a scenario where a large section of middle class, upper and high income groups in Pakistan do not vote, while rural and urban poor who are illiterate and mostly under the directive of a feudal lord or political party are told to cast their vote to a symbol – maybe the participation of Pakistani communities abroad is just what may turn around the election to a more sensible result? Mr. Tasawar Khan responds, "In principle, the Pakistan Government agrees that overseas Pakistanis should vote, but the administrative issues and mechanisms at the moment do not allow us to do so for the upcoming elections."
As a seasoned diplomat, his opinion on US-Pakistan relations stems from years of experience. He says, "The US and Pakistan have a checkered history, even in our lifetime we have seen many phases of convergence and divergence of interests. We have seen multiple alliances between the two countries, and at the same time sanctions imposed by the US. Although many challenges lay ahead, there are signs of positive development. However, the main issue that is an obstacle in this process is the matter of the drone attacks, where collateral damage has reached unacceptable levels. It is counter–productive, since drone attacks are actually fuelling terrorism. The culture of revenge in these regions is very strong. There are videos of Taliban leadership that claim that there is no dearth of recruits as long as foreign forces carry out drone attacks. It is also a blatant violation of Pakistan's sovereignty. The position of Pakistan government is very clear on this subject, and there is no lack of communication of the above facts and policy makers."