Sada-e-Watan Sydney ô
sadaewatan@gmail.com
Sardar Balakh Sher Khosa takes over as the FIRST Community Welfare Attache in Pakistanís Consulate Sydney
Sardar Balakh Sher Khosa has arrived in Australia from London and on 8th March 2013 took over as the First Community Welfare Attache at Pakistan's Consulate Sydney. Recently Sardar Balakh Sher Khosa was Counsellor Welfare at Pakistan High Commission London United Kingdom.
Sardar Balakh Sher Khosa is a well Known Lawyer. He Studied at the AITCHISON COLLEGE LAHORE, University of Punjab Lahore and Bahauddin Zakariya University Multan.
Sardar Balakh Sher Khosa is Son of the Former Federal Minister, Attorney General and Governor Punjab. Sardar Muhammad Latif Khosa Sahib. On Behalf of the Pakistani Australian Community, Sada-e-Watan Sydney Welcomes Sardar Balakh Sher Khosa & Family.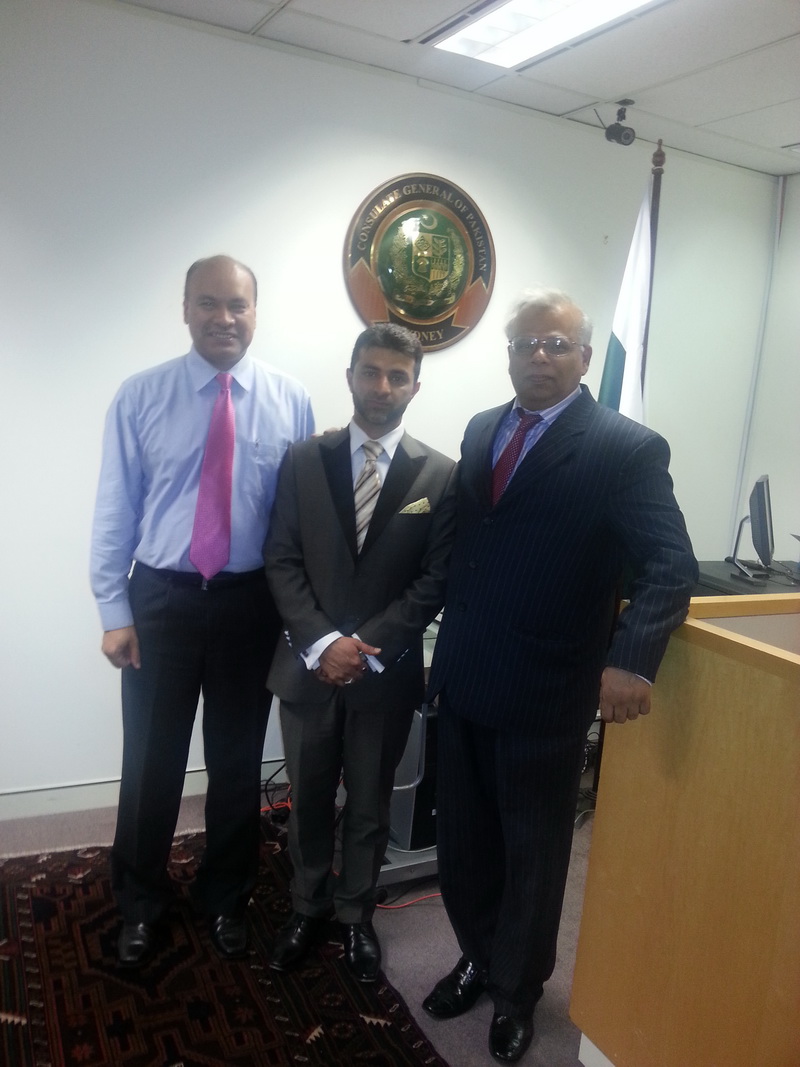 C U R R I C U L U M V I T A E
NAME

:

SARDAR BALAKH SHER KHOSA

PROFESSION

:

ATTORNEY-AT-LAW / DIPLOMATIC COMMUNITY WELFARE ATTACHE AT PAKISTAN CONSULATE SYDNEY AUSTRALIA

FIRMíS NAME

:

KHOSA LAW CHAMBERS

FATHERíS NAME

:

SARDAR MUHAMMAD LATIF KHAN KHOSA

DATE OF BIRTH

:

06-06-1976

EDUCATION CAREER

EARLY EDUCATION

:

AITCHISON COLLEGE LAHORE (1980-1987)

MATRIC + F.Sc

:

D.P.S. SCHOOL & COLLEGE, LAHORE

(1990-1992)

B.A.

:

PUNJAB UNIVERSITY, LAHORE (1995).

LL.B

:

B.Z. UNIVERSITY, MULTAN(1998) 1st Division

CERTIFICATE

:

FITNESS CERTIFICATE FOR SUPREME COURT OF PAKISTAN DATED 20-10-2011

EXPERIENCE

FIRST APPOINTMENT IN GOVT SERVICE

:

APPOINTED DIPLOMATIC OFFICER AS COUNSELLOR WELFARE, HIGH COMMISSION FOR PAKISTAN, LONDON W.E.F. 04-04-2012

PRACTICE AS ADVOCATE

:

STARTED IN 1999

SKILL

:

CIVIL, CRIMINAL, CORPORATE, CONSTITUTIONAL & SERVICE LAWS

HIGH COURT BAR MULTAN

:

GENERAL SECRETARY (2004-2005)

PANEL

:

FEDERAL GOVERNMENT (SINCE 2004).

LEGAL ADVISOR SHIP

:

i) THE BANK OF PUNJAB.

ii) THE S.M.E. BANK.

iii) THE BANK AL-FALAH LIMITED.

iv) WATEEN TELECOM LIMITED

v) WAPDA

vi) PEMRA

vii) FEDERAL COUNSEL FOR GOVT OF PAKISTAN SINCE 2008 TO JAN 2010.

ACHIEVEMENTS

:

i) REWRITED AND SIGNATORY OF THE CONSTITUTION OF MULTAN HIGH COURT BAR ASSOCIATION, LAHORE IN THE YEAR 2005 BEING SECRETARY OF BAR ASSOCIATION.

ii) SILVER JUBILEE CELEBRATIONS OF MULTAN HIGH COURT BAR ASSOCIATION WAS ORGANIZED AND CONDUCTED DURING MY TENURE OF SECRETARYSHIP.

iii) I, BEING THE YOUNGEST EVER ELECTED SECRETARY IN THE HISTORY OF PAKISTAN, WAS AWARDED SHIELD OF HONOUR BY THE THEN HONOURABLE CHIEF JUSTICE OF PAKISTAN; MR. JUSTICE NAZIM HUSSAIN SIDDIQUI.
INTERNATIONAL EXPOSURE

:

VISITED DIFFERENT COUNTRIES i.e. USA, UK, IRELAND, CANADA, FRANCE, GERMANY, ITALY, SAUDI ARABIA, UNITED ARAB EMIRATES AND EGYPT.

HEAD OFFICE

:

KHOSA LAW CHAMBER, 1-TURNER ROAD, LAHORE.

SUB-OFFICES

:

MULTAN & RAWALPINDI.

INIMITABLE FEATURES

KHOSA LAW FIRM was established in 1965 by its founder Member SARDAR MUHAMMAD LATIF KHAN KHOSA, Senior Advocate of Apex Court of Pakistan. This Law Firm is being run under his Worthy Chairmanship basing its Head Office at Lahore, having Branches at Multan & Rawalpindi. It is imparting Legal Assistance, through its expertise in all type of cases, especially, in Civil, Criminal, Corporate, Constitutional and Service matters right from Civil Courts to the Level of Supreme Court of Pakistan. This Firm has full time services of dozen of Associates. It is a unique firm for its best services. Its tremendous achievements have attracted the Bank of Punjab, SME Bank, Bank Al-Falah, Wateen Telecom, Wapda and Federal Government of Pakistan to have its services as Full Time Advisorship on Retainership basis. With the assurance that its affiliation with any Organizations/Departments would be a matter of pride.
KHOSA LAW FIRM
(Under the registration of)
(SARDAR BALAKH SHER KHOSA)
ATTORNEY-AT-LAW
NOW WORKING AS COMMUNITY WELFARE ATTACHE,
CONSULATE GENERAL OF PAKISTAN,
SYDNEY AUSTRALIA SINCE MARCH , 2013
LEVEL 7, 32 MARTIN PLACE, SYDNEY, NSW 2000
GPO Box 5256 , NSW 2000
OFFICE NO :+61 2 92221806